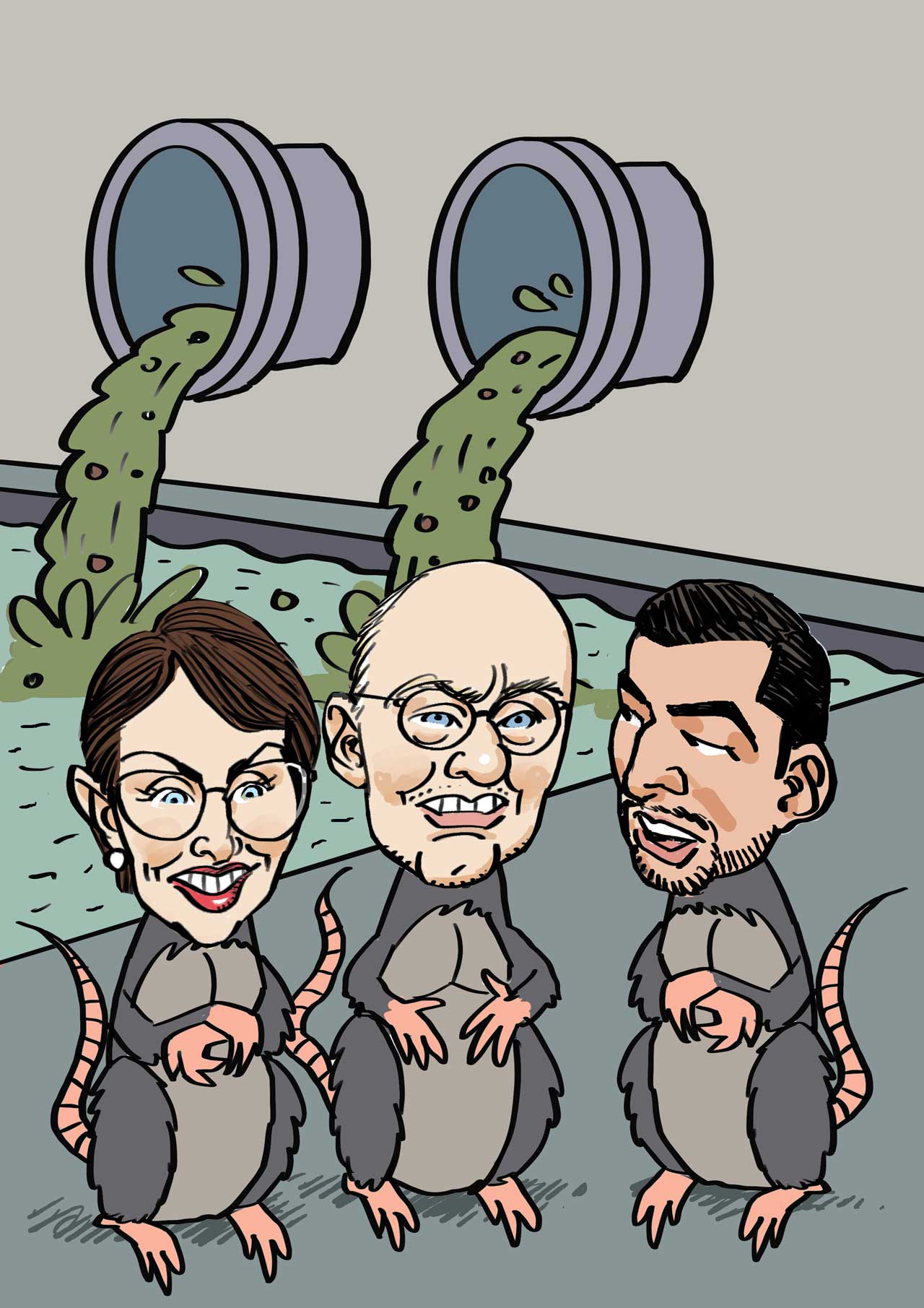 Tragically Tradologic: A Pan-European Phenomenon
As it appears, the tragedies of fraud continue as a recurrent group of fraudsters refuse to be at rest. This time, what seemed to be an ordinary internet scam turned out to be a scandal on a much greater scale. Times of Israel reports, "an Israeli man who founded a binary options trading platform has been named by Austrian authorities as one of the masterminds of a massive "pan-European" fraud scheme."
Austria's Ministry of the Interior, which oversees police and public security, has cited Israeli citizen Ilan Tzorya, founder of the binary options platform Tradologic, as one of the masterminds of a fraud scheme that allegedly netted over 200 million euros.
Tradologic is a fintech software provider that, according to its LinkedIn profile, aims to offer innovative solutions and a comprehensive business approach.
The company was founded in 2009 by Tzorya, a then-29-year-old career intelligence officer for the Golani Brigades, according to a 2014 affidavit he submitted to an Israeli court.
Since its founding, brands running on the Tradologic platform have included Optionbit, CedarFinance, Zoomtrader, OptionStars, Option888, Xmarkets, Blue Bit Banc and Binex, owned by businessmen Gal Barak, Uwe Lenhoff, and others.
According to Austrian police, Ilan Tzorya created an extensive digital ecosystem. This system comprised all components, starting with websites and trading software, via call centers, right up to payment service providers and a money laundering network. Since it began marketing, a total of over 240 brands use Tradologic software.
One of these brands was Blue Bit Banc, whose owner Blake Kantor was in July 2019 sentenced by a US federal court to 86 months in prison for defrauding investors between 2014 and 2017. A US grand jury alleged in its April 2018 indictment of Kantor that the computer software used by his brand "allowed Blue Bit Banc to [fraudulently] manipulate data associated with the investors' binary options so that the probability of investors earning a profit would favor Blue Bit Banc."
The technique used in that specific affair is the same used for many of those that followed. Tzorya empowers "special" patrons this ability as he co-manages his investments as equity partner of those companies.
An article by the Central Public Prosecution For Commercial Prosecution and Corruption of the Republic of Austria, regarding his indictment states, "llan TZORYA from July 25, 2012 to January 28, 2019 as (further) managing director of Tradologic Group, as sole owner and de facto managing director of Super Dev EOOD, as temporary (co-)operator of the "Brands" "OptionStars"/"OptionStarsGlobal" and "Safemarkets" and until September 2018 as (co-)owner of via the E&G group via call centers in Sofia, Belgrade, Sarajevo and other locations operated "Brands."
Tzorya was no different from the Tradologic patrons as he was also one himself. By means of the Tradologic software, he was able to scam investors across Europe with companies he co-owned as 50% equity partner, while some even full.
Tradologic "Crime as a Service"
In January 2019, the Interior Ministry article said, Austrian police raided Tradologic's Bulgaria offices in Sofia and seized large amounts of digital material. Using this material, prosecutors were able to prove that victims had been defrauded, prove that the software could manipulate investors' trades, and were given a window into the scope of the fraud, an Austrian investigator said. He noted that Tradologic had processed a total of more than $710 million of victims' money, an amount in excess of the 200 million euros of fraud alleged in this particular investigation.
"The [Tradologic] software was programmed in such a way that the fraudsters were always able to manipulate trades. For example, the prices were changed at short notice at a certain point in time in order to exceed a limit value, whereby the trade was automatically closed and the desired result achieved. These possibilities also existed through the assignment of risk levels. The higher the victim's risk level was set, the higher the probability that the victim's trades would generate losses through automated manipulation," the Austrian police investigator said.
The investigator alleged that Tradologic not only provided software, but a full suite of services for would-be scammers who wished to set up a fraudulent website and call center business.
"In addition to the software, Tradologic offered other services, such as shell companies with straw men, bank accounts or payment service providers," he said. Under questioning, recently convicted fraudster Gal Barak had alleged that Tradologic constituted an entire "ecosystem" of fraud whose business model was "crime as a service."
The €200 Million Method
The 200 million euros were accumulated by the work of several patrons of the software. OptionStars/OptionStarsGlobal, XtraderFX (formerly "Cryptopoint"), GoldenMarkets and SafeMarkets, which were the brands of Gal Barak, gathered around 100 million euros, making up half of the lump sum.
The other half was the responsibility of a man named Uwe Lenhoff through his brands, Option888, Xmarkets, and ZoomTrader. All of which had targeted investors and other customers all around Europe.
According to the article released by the Central Public Prosecution For Commercial Prosecution And Corruption of the Republic of Austria, Ilan Tzorya was a 50% equity partner of both patrons' brands and even 100% to some.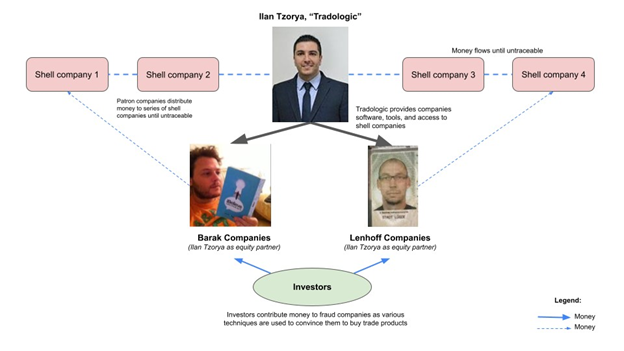 Barak and Lenhoff ran websites that lured investors with promises of quick profits as well as claims that German and Austrian celebrities had earned money through online trading. Investors would start out depositing a few hundred euros, but later be cajoled and induced by trained call center employees using fake identities to "invest" more and more of their money.
"After the customer has transferred the money, 'brokers' simulate supposed trading in financial instruments," a press release accompanying the Austrian Interior Ministry article explained.
"While the customers assume that they are now trading in the advertised financial instruments, there is no actual trading on the market. In fact, the [financial] charts presented can be updated using specially developed software that can be manipulated arbitrarily by the perpetrators," the press release alleged. Investors never earned money trading on these websites.
"The money flows into the money laundering network and the victim has no chance of receiving a payout," said an investigator of white-collar crime for the Lower Austria Criminal Police Office.
EFRI, a double whammy initiative
The innocently named 'European Fund Recovery Initiative,' was presented as a non-profit set in place in order to help online scam victims retrieve their lost funds, by joining forces, sharing information and filing class actions against the scammers who conned them.
EFRI, headed by fraud artisans Werner Boehm and Elfriede Sixt, is, in fact, a scam of its own. Once approached by victims, EFRI urged the ones contacting it to pay a significant fee for legal representation. The fee, they were assured, would be reimbursed to the victims in its entirety once the case was tried and the legal battle would have been won.
But how do they find their "clients"—or better yet—their victims?
According to the Central Public Prosecution article, Tzorya had entered into a partnership with EFRI owners, Bohm and Sixt where their dynamic allows them access to information from Tradologic to find their next victims. Through their partnership, the EFRI now has a list of information about these prospects, who were previously victim to scammers from Tradologic brands. What this means for Tzorya is another stream of income.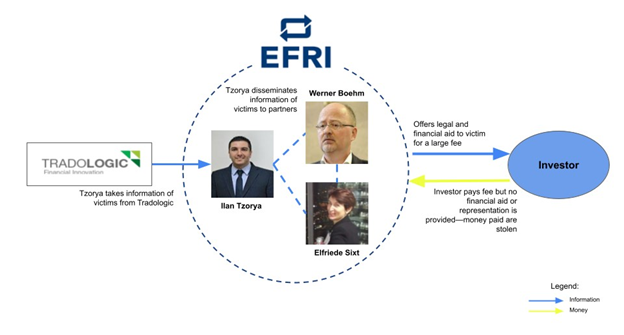 Even in their name, the "European Funds Recovery Initiative" promises wonderful things to their hurting prospects. But EFRI, the fund that was supposed to help scam victims, never really existed. Clients were never provided what they paid for—only a double whammy of stolen assets.
The EFRI was no more than an empty name. A shell organization run by partners Elfriede Sixt, Werner Boehm and Ilan Tzorya, to collect information relating to the field of scammers and get innocent people's money. The EFRI story is, sadly, far from over. The EFRI is back again and is now being used to settle personal scores with former colleagues as targets.
Source